How Do You Compare The Potency Of Different CBD Products?
How do You Compare the Potency of Different CBD Products?
It can be unclear how to compare how much active ingredient is in different CBD products.
After all, we are all looking for value for money, and we want to know the amount we are buying per £.
All products should tell you how many milligrams (mg) of active cannabinoids they contain, preferably both per mL and per bottle.
Divide the price by the milligrams to get the £/MG of product and gauge its strength.
Good quality products will also state on the label the main cannabinoids they contain.
A CBD isolate will contain only CBD, while an authentic full-spectrum product must include other cannabinoids and terpenes.
Be Cautious of Poor-Quality CBD
Beware, one CBD product may not have the same effect as the next. As we said above, additional beneficial compounds like terpenes and other cannabinoids can only be found in a complete hemp extract.
Many CBD products on the market today come from companies with inadequate quality control over what's in their product.
We recently conducted a study of over 30 products by testing their composition at a third-party laboratory. We found the vast majority had significantly less CBD in them than they claimed.
Moreover, in Four Cases There Was NO CBD Found!
The BBC and the Centre for Medicinal Cannabis conducted similar surveys with equally concerning results.
Do your research and go with a company you can trust.
Why Choose ElleVance?
ElleVance's Quality
At ElleVance, we pride ourselves in the high-quality processes and ingredients we use to produce our CBD/CBDA products range. Unlike most of the other companies selling CBD products, ElleVance owns and controls its products' entire growing, manufacturing and commercialisation phases. The full-spectrum hemp extract we use allows you to get more mg of CBD and CBDA per ml, resulting in a more effective product.
Furthermore, all our products contain a COMPLETE cannabinoid and terpene profile, meaning they are not only rich in CBD and CBDA, but also terpenes. Terpenes are the molecules responsible for the plants' aromas and are known to be helpful in improving our health.
Terpenes
Not all CBD products contain terpenes. Research reveals that the presence of terpenes can intensify their effectiveness of the product by working together with CBD and CBDA in something that is known as the entourage effect.
The entourage effect is when compounds within the hemp plant work together to produce a stronger influence than that of a single cannabinoid. The unique blend of terpenes, CBD and CBDA in our products, has been extensively researched to provide you with the perfect balance and maximise the effects.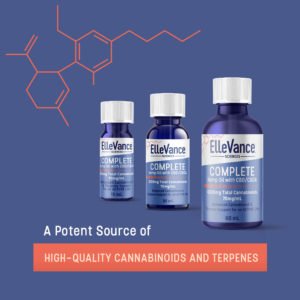 Independent Laboratory Testing
We are so confident about the quality and consistency of our products that we get them tested by independent laboratories. While most companies check their products only once, ElleVance's products undergo extensive quality tests.
We check our plants before harvest to ensure the cannabinoids content meets the requirements. We test the purity of our hemp extract to make sure it has the desired cannabinoids and terpenes and is free of contaminants. Then we analyse our final products to confirm the concentration of the cannabinoids and terpenes.
Finally, samples from each production batch are regularly re-tested to ensure no potency is lost during shelf-life.
You can request to view these certificates at any time. In addition, our knowledgeable team are on hand to answer any questions you may have, get in touch via our website or social media channels.